2014: The Year of the Fairy Tale
---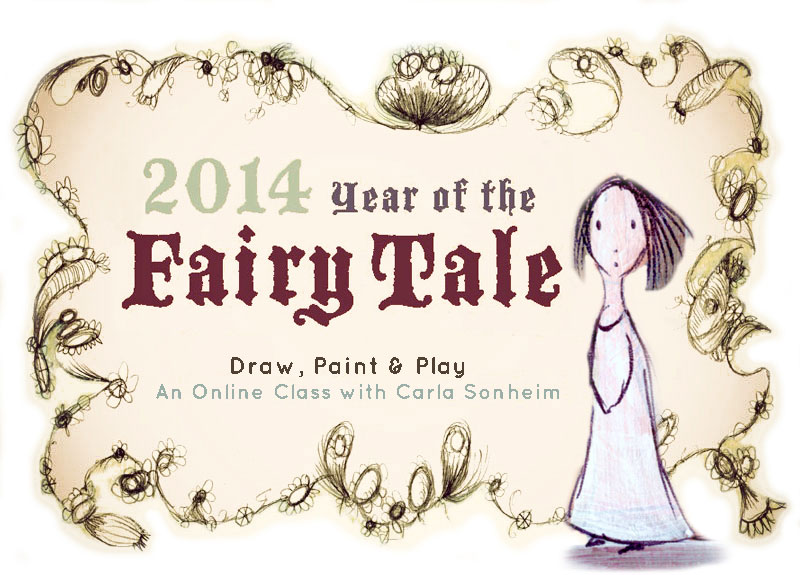 Welcome to my 2014 year-long online class:
Year of the Fairy Tale!
2014: Year of the Fairy Tale from Silly U on Vimeo.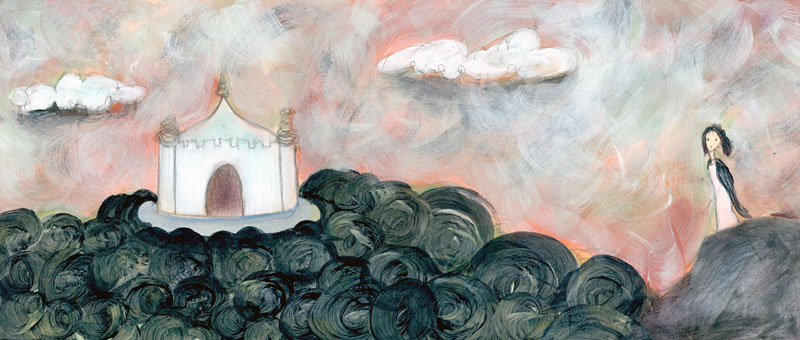 Class begins January 20, 2014. The class is now available as a self-study class.
"Grimm's Fairy Tales" was my favorite childhood book, so I can't tell you how excited I am to spend a whole year illustrating fairy tales!
If you don't know me, my name is Carla Sonheim and I am an artist and author of several instructional drawing and mixed-media books. I'm known for my projects and techniques that help adult students recover a more spontaneous, playful approach to creating!
During this year-long online class, we will illustrate 8 fairy tales (the class will run in two, four-month "semesters," with a 7-week break in between). Each month you will receive both a sketchbook assignment and a technique-based, mixed-media project via professionally produced videos.

How will this work?
First, my goal for all my classes is that students create art that is true to their own style (as opposed to expecting art look like mine). The techniques taught are just starting points and you will incorporate them into your own existing style and what will come out will be fresh and new.
Also, I strive to make sure that every online lesson includes both techniques and the opportunity for personal growth and self expression. "Year of the Fairy Tale" will be an online community where participants from all over the world share their work, their thoughts, and encourage each other. And of course, I am available to comment on all work uploaded throughout the year.
For each of the 8 working months you'll receive:
• a PDF with that month's Fairy Tale/Reading Assignment
• a Sketchbook Assignment (each month we'll pick a focus: the figure, the face, animals, architecture, etc.)
• a Step-by-Step Mixed-Media Project (throughout the year we'll work with watercolors, acrylics, pastels, charcoal, graphite, collage….)
• Professionally Produced Instructional Video(s)
• Special Blog Posts exploring each fairy tale's rich visual history, guest artists, and more
• Instructor Feedback on all uploaded or emailed work
Our virtual "classroom" includes a private blog and closed Facebook group.
Each Reading & Sketchbook Assignment will be released 10 days before the Mixed-Media Assignment. Class begins January 20, 2014.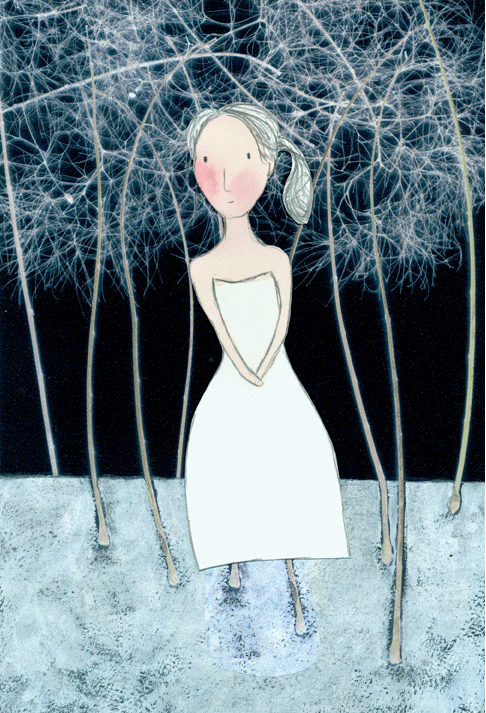 New to online classes? Check out the "Frequently Asked Questions" page, and here are some recent comments from students:
"In my opinion, you are a gifted instructor, who actually makes art fun, and I look forward to learning more from you." — Jo
"Your style of teaching is warm, genuine and clear." — Sheri
"Carla and her co-teachers inspire not just making art but also a sense of community among the students, of whom many have been making art for quite some time and others are new to it. This sense of community shows itself in the way everyone shares art — within a closed group on Facebook — and comments in a wonderful, supportive way." — Corinne
AND specifically about the this class:
"I'm really having a blast in this class. It's hard, it's fun, it's challenging, it's frustrating, it's very satisfying… learning so much and loving seeing all of the amazing work being posted and loving learning these new techniques. Thanks, Carla!" — Helen
I'm really looking forward to immersing myself in fairy tales this year, and hope you will join me!
• All levels welcome and encouraged to join in (new artists will have the option of also joining a separate facebook group especially for beginners!)
• Registration fee is good for people living in a single household (a great class to do with your kiddos!)
• If you have any questions at all, please email me at carla[at]carlasonheim.com.
• BONUS! The first 50 people to sign up will receive a set of 8 digital fairy-tale-inspired greeting cards (PDF) suitable for printing and sending.
• If you'd like a feel for the supplies you will need for this class, click here.
_ _ _ _ _ _ _
SIGN UP TODAY!
_ _ _ _ _ _ _
GIVE A GIFT
Do you know someone who would like this class? Gift a class, and I'll send you a downloadable gift card to give to the recipient.
_ _ _ _ _ _ _
Once you register, you will receive a confirmation email immediately. I will log you in to the class with your Paypal email address unless you indicate otherwise.
Thank you again and I hope you can join in!
Carla Sonheim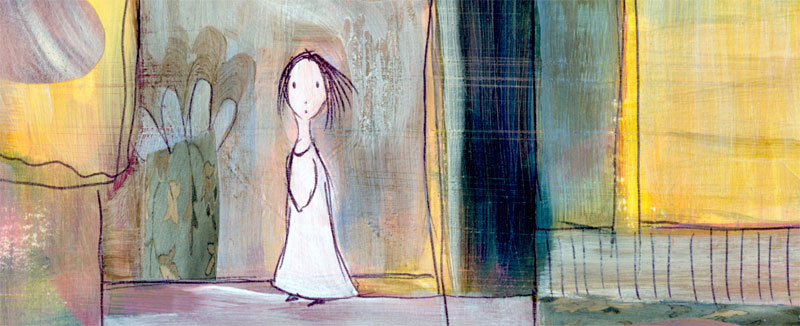 ---