Art Heist: Online Class
---
Art Heist: A Twist on the Traditional Master Copy
Instructor: Krista Peel Starer
2-week, 4-lesson class, mixed-media • $65 
Class Dates: June 7 – 17, 2016
Note: Even though class has started, you are welcome to join anytime!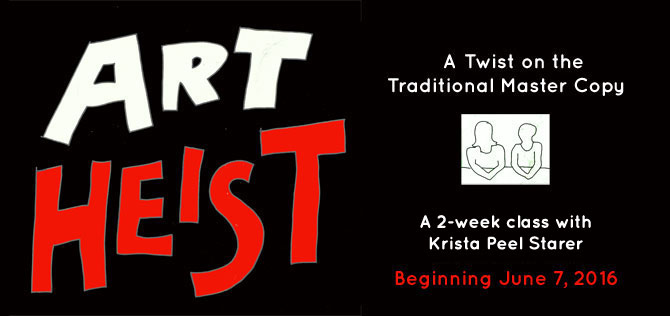 THE PITCH
In this class we'll steal from and re-create the works of four of our favorite artists. (As Picasso says: "Good artists copy; great artists steal.")
THE PLAN
An enormous part of making art is absorbing and converting what others have created into your own work.  In this class we'll steal from and re-create the works of our favorite artists. Along the way, we'll begin to understand their processes and personal mark making, even in profound ways, like looking through their eyes.  We'll discuss how our favorite artists have made their work; the tricks they've used, the shortcuts they've taken, and how they developed a personal art language.
The goal is to come away with some new information — information you can use to go out and do the thing we are especially suited for; recording ourselves and our world.
Here is the breakdown: I'll choose a few of my favorite works of art to re-create and you'll do the same. The first theft will be in cut paper assemblage, the second and third in watercolor and the fourth using acrylic. During this caper, we'll all be sharing our favorite treasures and introducing each other to gems of new artists
THE GETAWAY
We all make art differently, from the beginner to the master. In re-creating our favorite artists' work, we can lift some great ideas and make off with a wealth of knowledge. Are you in?
_ _ _ _ _ _ _
SUPPLIES NEEDED FOR THIS CLASS: For the Supply List, click HERE.
_ _ _ _ _ _ _
Class Itinerary:
Week 1
Lesson 1: Stealing for Beginners, Starting in Cut Paper
You will choose a favorite piece of artwork that has a part or detail you'd like to focus on. Working from your chosen source material, you'll zoom in and develop a cut paper collage with the elements you love from that piece.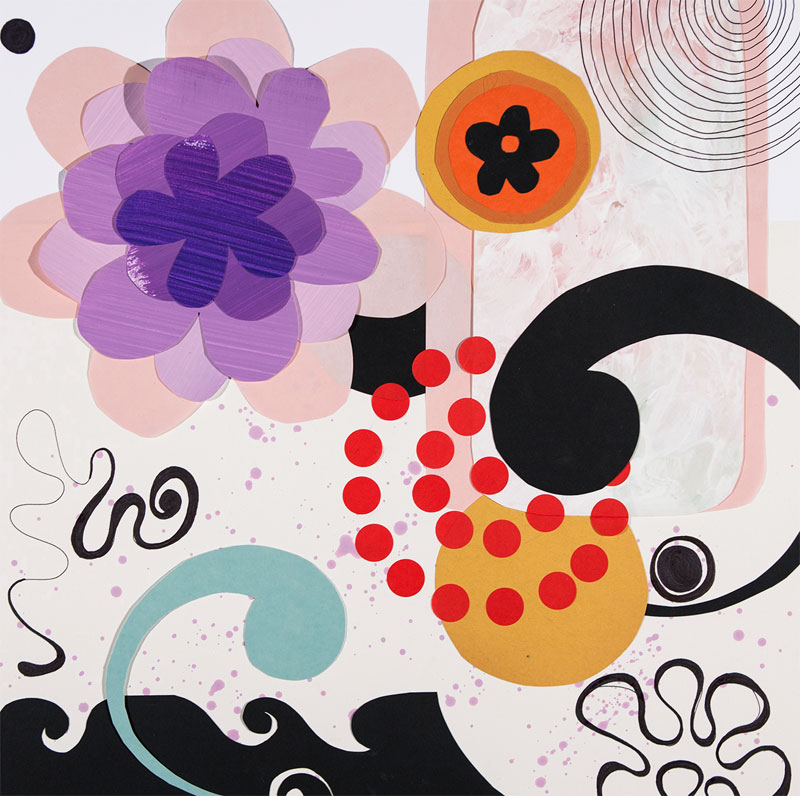 Cut paper collage inspired by Brazilian Illustrator Beatriz Milhazes 
__________
Lesson 2: Grabbing the Whole Treasure, a Landscape Caper in Watercolor
You will work from another favorite piece; this time — a landscape. Using an easy watercolor technique, you will lift the whole piece, edge to edge. And during this process, you will personalize it and find more idea treasures to sneak away with.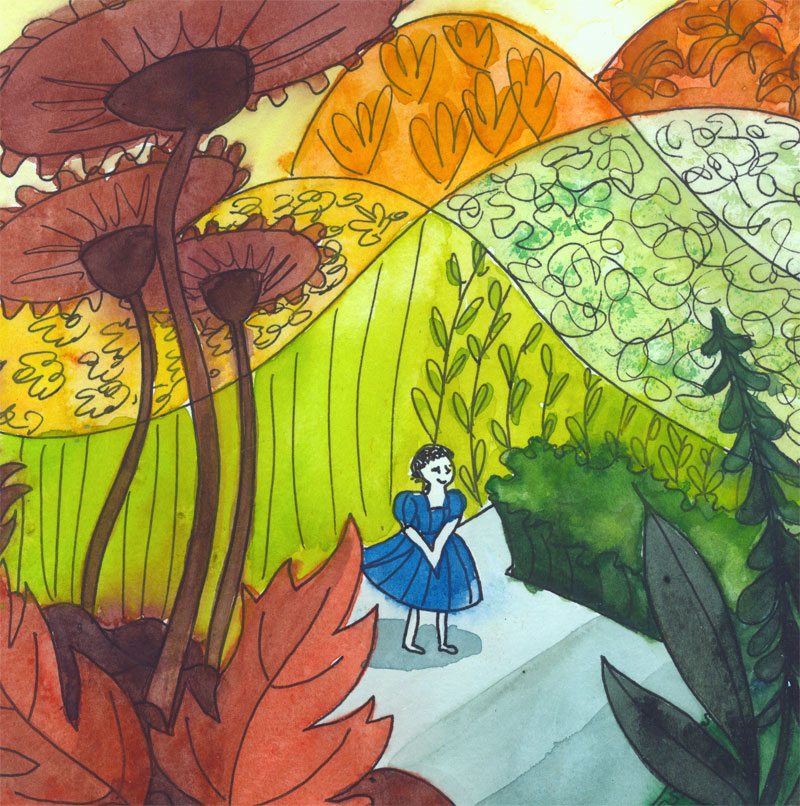 "Luna in the Meadow" in the style of Illustrator Mary Blair
__________
Week 2
Lesson 3: Advanced Theft, Image Stealing Techniques from the Masters
This is where we get highly secret, and show you the tricks that have been hidden among artists for centuries. (You may need to take the class to find out more . . . (HOMEWORK – watch BBC special David Hockney's Secret Knowledge)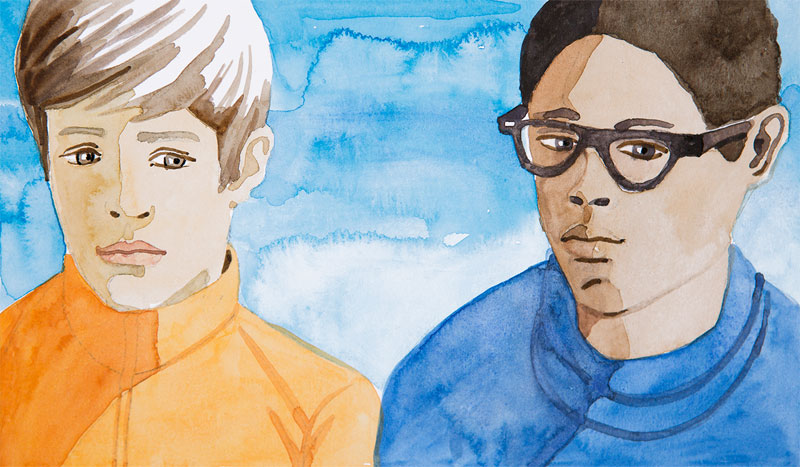 Watercolor copy of Alex Katz' 1969 painting, Vincent and Tony
__________
Lesson 4: Absconded Sculpture, 3D Taken to 2D in Acrylics
During our final grab, you will use a photograph of a favorite sculpture and transform it into an acrylic painting. You will make off with multiple ideas, including an acrylic technique called faux bois. Now it's time to make our getaway!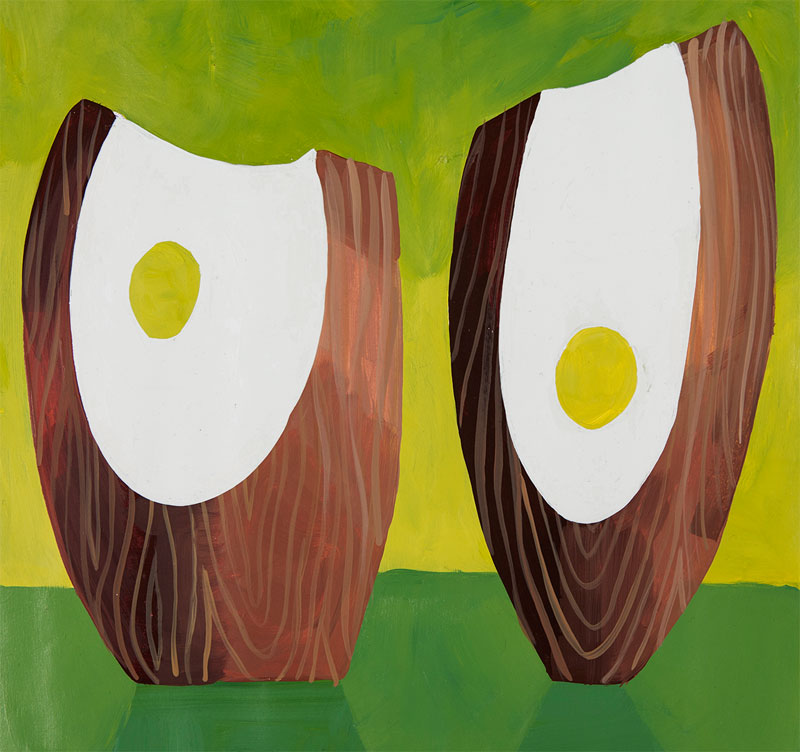 3D to 2D: Acrylic painting inspired by the sculpture of Barbara Hepworth
NOTE: You will choose artists that YOU love to work from… the artists here are Krista's picks. 😀
______________________
SIGN UP TODAY!
____________
Here's the scoop for this class:
• Each Tuesday and Thursday of the two-week class, you will receive an email with a reminder to visit the class blog for that day's lesson.
• A password-protected blog dedicated to each class will serve as our clubhouse.
• A facebook group will be created for you to (optionally) share your paintings, and enjoy and learn from the artwork of others. (However, if you are shy about posting your art, Krista is always available to look at your work via email.)
• The class materials will be up and available for download until "forever," if for some reason you need to miss a day (or a couple of weeks).
• Upon registration, you will receive an email within 48 hours confirming your sign-up. On the Friday before your session begins, you will receive a "test" email to make sure you can receive/view everything.
• What you will need: You will be able to view vimeo.com videos.
• Class fee is good for participants living in a single household.
QUESTIONS? carla@carlasonheim.com
_ _ _ _ _ _ _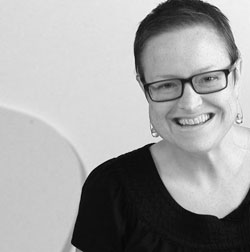 Krista Peel Starer is an artist, art entrepreneur and longtime developer of creative projects. She received her degree from the School of the Art Institute in Chicago, IL in painting and drawing.
Krista is an accomplished art maker and designer in a whole host of mediums. Currently she is Co-Owner of 3 Star Studio a design and fabrication studio with her husband and daughter. Together, they develop and produce jewelry, dollhouses, miniatures, puzzles and laser-cut beads. Krista has also started illustrating children's books, including the already released "
Illustrated Alphabet
" and her upcoming title "The Amazing Book."
She was previously Co-Director of the Philadelphia Art Hotel, an artist residency run out of her 3-story row home in Philadelphia. Krista is a seasoned jewelry designer, having participated in art and craft fairs around the country.  She has worked at the DeYoung Museum in San Francisco, the Philadelphia Museum of Art and was Art Director for various art theater projects with Collaboration in Chicago.
Now in her life an an off-grid homesteader in the Appalachian Mountains of Pennsylvania, she has discovered the art-making intrinsic in cooking, building projects and playing with her 4-yr-old.
Find her work here –
3 Star Studio – Etsy Shop
Krista Peel Jewelry – Etsy Shop
 – – – – – – – – – – – – – – – – – – – – – – – – – – – – – – – – – –
BONUS — Words Stolen (about stealing!)
"Select only things to steal from that speak directly to your soul. If you do this, your work (and theft) will be authentic. Authenticity is invaluable; originality is nonexistent." — Jim Jarmusch
"The only art I'll ever study is stuff that I can steal from." — David Bowie
"I love art, I love being thrilled by art, and I love folding these thrills into my own practice. I love stealing….I absolutely believe my best work lies ahead of me, and lies in the work I'm absolutely on fire to steal from." — Tom Hart
"A good composer does not imitate; he steals." — Igor Stravinsky
"Those who do not want to imitate anything, produce nothing" — Salvador Dali
"What is originality? Undetected plagiarism." — William Ralph Inge
"What to copy is a little bit trickier. Don't just steal the style, steal the thinking behind the style. You don't want to look like your heroes, you want to see like your heroes." — Austin Kleon, from his book, Steal Like an Artist.
---