Flower Crazy 2 – Supply List
---
Supplies Needed
Note: These are the supplies that will be demoed in the class videos, but you are welcome to substitute any supplies with those you already have on hand. 
Watercolor paper, about two 22″x30″ sheets, 140# hot press (smooth)
#12 round brush, 1/2″ flat brush (or similar)
watercolor set (pan or tube)
Large Chalk markers, 2-3 colors (can substitute paint pens)
White paint pen
Swedish Tracing Paper (see below for ordering info; this item can be substituted with rice paper or tissue paper as well, though the effects won't be quite the same)
kneaded rubber eraser (large)
stamp pads, several colors
matte medium
one sheet card stock (heavy computer paper), tape
vine charcoal
pencil
white acrylic ink (white nail polish works, too)
blue painter's tape
a selection of items to make marks with: old credit card, sticks, straws, plastic knives, etc.
a selection of items found in your house to make textures with: shells, flatware, beads, etc.
optional: spray fixative
______________________
Swedish Tracing Paper Hunt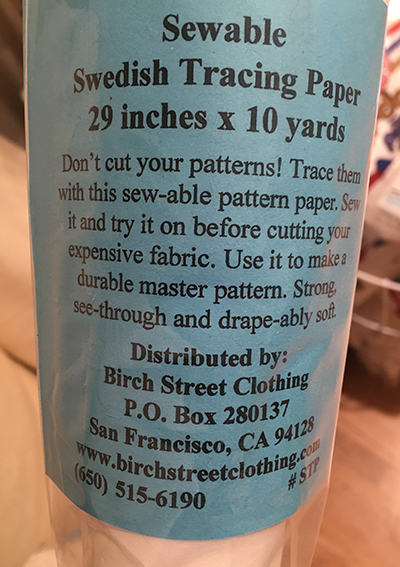 The cost is under $15 plus shipping for a 29″ x 360″ roll. Fabric or craft stores carry this product online and in stores and the following will ship internationally:
Drygoods Design in Seattle
https://drygoodsdesignonline.com/search?type=product&q=*swedish%20tracing%20paper*
Nancy's Notions  http://www.nancysnotions.com/product/sewable+swedish+tracing+paper.do
Birch Street Clothing
http://birchstreetclothing.com/group.php?itemID=9036&colID=28
And Amazon carries this product in the US, Canada, and EU:
United States: https://www.amazon.com/Swedish-Tracing-Paper-Sewing-Transfer/dp/B00E3DG2KW
Canada: https://www.amazon.ca/Sewable-Swedish-Tracing-Paper-Inches/dp/B00E3DG2KW/ref=sr_1_1?ie=UTF8&qid=1488940779&sr=8-1&keywords=swedish+tracing+paper
UK: https://www.amazon.co.uk/d/Art-Paper/Sewable-Swedish-Tracing-Paper-YDS-73cm-9-2m/B00C649MLG/ref=sr_1_1?ie=UTF8&qid=1488941002&sr=8-1&keywords=swedish+tracing+paper
______
Last Resort!
If you can't find it and would like to try the Swedish Tracing Paper for this class, we can send you a sample packet for $15 (US orders) or $18 (international orders). Email Christi Sonheim at jellybeanjunky@gmail.com and she can work with you on payment, mailing address, etc.
---